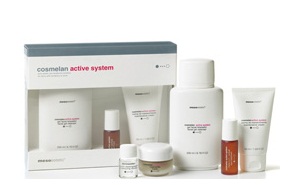 Cosmelan Aktiv System- acne behandling
Cosmelan Active System er udviklet specielt til at rense og regulere fedtet/acne hud, reducere betændelse og standse udviklingen af acne udbrud samt forbedre hudens struktur og udseende.
Hvordan virker det?
Cosmelan Active System Acne behandling består af to faser:
Fase et: Anvendelse af Cosmelan Active System maske – ( udføres i klinikken)
Cosmelan Active System maske indeholder aktive ingredienser som fjerner døde hudceller, dybt renser porerne, normaliserer taglkitlernes funktion og dræber acne bakterier. Masken påføres i klinikken og skal fjernes efter 3 timer af klienten derhjemme med vand. Bagefter påføres Cosmelan Aktiv Maintenance Cream.
Fase to : Vedligeholdelse derhjemme – (skal bruges i min. 8 uger) .
Man skal bruge Cosmelan Aktiv Maintenance Cream hjemme 2 gange dagligt efter rensning med Cosmelan Active Facial Gel Cleanser. Cremens aktive ingredienser fjerner effektivt døde hudceller, reducerer tagl- og fedtproduktion, formindsker og udjævner hudens misfarvninger. Dagligt anvendes af cremen vil forbedre udseendet af huden og mindske tilstoppede porer.
Cosmelan Active Spot Behandlingen kan anvendes 5-6 gange hver dag og direkte på betændte områder. Ingredienserne reparerer huden og har Antiinflammatoriske egenskaber, som fremskynder heling af acne.
Cosmelan Active Facial Gel Cleanser bruges om morgen og aften for at fjerne make-up, fjerne overskydende hudfedt og efterlader huden frisk og afbalanceret.
Hvad er fordelene?
Masken dræber acne bakterier og renser dybt porerne, forebygger nye aktive acne udbrud mens vedligeholdelses produkter fremskynder heling, reducerer fedtproduktionen og bidrager til at forhindre nye acne udbrud.
Evaluering efter Cosmelan Aktiv masken.
Første 7 dage.
De fleste kunder vil få acne udbrudt efter anvendelsen af masken, idet behandlingen trækker urenheder ud og huden begynder "at hele", renses intensivt indefra.
Let afskalning af huden forekommer typisk for de fleste mellem anden og tredje dag. Huden skaller af i 3-5 dage, afhængig af hudtype.
Det et absolut normalt at huden føles let strammende, specielt I løbet af de første 2 dage efter behandlingens start.
For nogle rødmen af huden kan opstår, som varer op til 7 dage.
Hvor mange behandlinger har man brug for?
Hvis man følger den anbefalede procedure, vil en behandling bringe acne huden under kontrol for de fleste kunder. Fortsættelse med bruget af anbefalede hjemmepleje produkter vil mindske sandsynligheden for yderligere acne udbrud.